PM Modi In Japan: This is his second and final day of visit.
Tokyo/New Delhi:
Prime Minister Narendra Modi started his second day of the Japan visit by addressing the Indian community in Tokyo. Yesterday, PM Modi spent eight hours at the scenic Yamanashi at his Japanese counterpart Shinzo Abe's holiday home, before taking the express train to Tokyo this evening. The two Prime Ministers held informal talks over lunch and a private dinner and also visited Japan's largest facility for building industrial robots.
After addressing the Indian community, PM Modi will attend the 13th India-Japan annual summit, where the two nations are expected to deepen their strategic ties and build synergy across various fields.
Here are the live updates on PM Modi's second day in Japan:
Oct 29, 201806:45 (IST)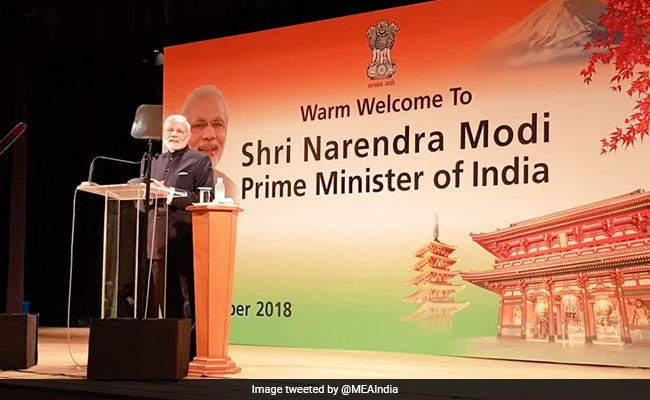 PM Modi addresses the Indian community in Japan:
India is going through a massive transformative phase today.
The world is appreciating India for its efforts towards services towards humanity.
The policies being made in India, the work being done towards public welfare, for these the nation is being felicitated today.
Today India is making tremendous progress in field of digital infrastructure.
Broadband connectivity is reaching villages, over 100 Cr mobile phones are active in India, 1 GB is cheaper than a small bottle of cold drink.
This data is becoming the tool for service delivery
Make in India has emerged as global brand today.
We're manufacturing quality products not only for India but for world.
India is becoming a global hub, especially in field of electronics and automobile manufacturing.
We're rapidly moving towards being number one in mobile phones manufacturing
Oct 29, 201806:40 (IST) The two leaders have had lunches and dinners over the last four years but this time, they got around to something that they seemed to have missed during their past meals together – chopsticks. PM Modi received chopsticks lessons on his third visit to Japan as prime minster. His instructor was Mr Abe, who called PM Modi one of his "most dependable friends" and hosted him at his holiday home in the village of Narusawa, Yamanashi.Oct 29, 201806:37 (IST)

A Jodhpuri wooden chest from Rajasthan with traditional work was also presented, an official said.
Hand-woven by the master weavers of Mirzapur in Uttar Pradesh, the dhurrie designs show the diversity of possibilities available — from a symmetrical repeating geometric tessellation in one, to stylistic floral motifs arranged around the classical medallion pattern in another.
Oct 29, 201806:36 (IST)

Prime Minister Narendra Modi presented his Japanese counterpart Shinzo Abe two handcrafted stone bowls and dhurries made from rose quartz and yellow quartz stone sourced from Rajasthan.
The bowls were crafted by master artisan Shabbirhusen Ibrahimbhai Shaikh of Gujarat's Khambhat region, which is known for its practice of stone craft since generations and is also a leading hub for exports of stone products from India.
Oct 29, 201806:35 (IST)

After luncheon, both prime ministers visited the FANUC industrial facility, which specialises in automation.
Later in the evening, Japan PM Abe in a special gesture hosted PM Modi at his personal villa near Lake Kawaguchi in Yamanashi for a private dinner.
It was the first time Japan PM Abe had invited a foreign political leader to his holiday home in the village of Narusawa in the prefecture.
Oct 29, 201806:33 (IST)
PM Modi, who arrived in Japan last evening to attend the 13th India-Japan annual summit, was accorded a warm welcome on his arrival and the first day of his visit was characterised by special gestures and warmth.
PM was affectionately received by Japan PM Abe on his arrival at the Hotel Mount Fuji in Yamanashi prefecture, west of Tokyo.
The two-day summit beginning Sunday seek to review the progress in ties and deepen strategic dimension of the bilateral relationship.
No more content CommentsSource Article